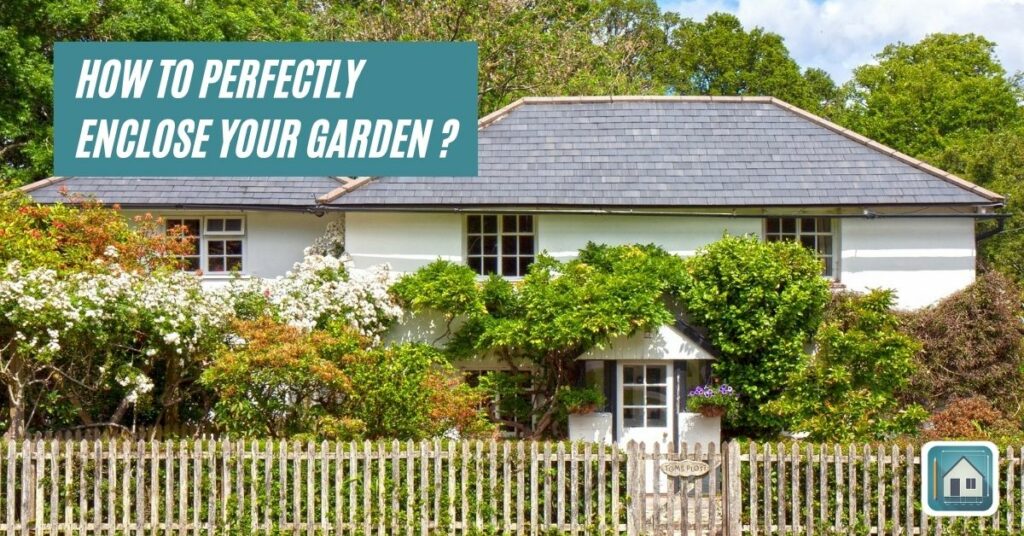 Delimiting your land, preventing pets from running away, protecting yourself from intrusions or even hiding your property: properly fencing your garden can be essential in many cases.

Follow this guide to know everything about garden fences and learn how to use them in Keyplan 3D !
---
Choose a fence style
The first step is to choose a fence style and material. This will depend initially on the style of your house but also on your budget and the purpose of your fence.
Below are the main characteristics of each type of fence :
PVC fences are inexpensive and easy to install. They are also highly customizable with a wide choice of possible colors and resist well to weather conditions. In addition, they isolate perfectly from the outside.
Thus, they are recommended for all types of land, large and small. However, in the case of light colors such as white, they require regular maintenance.
Wire mesh is the cheapest option and therefore allows installation on large sites. It is ideal if you only want to delimit your land or to protect your children or animals. It can be flexible or reinforced depending on your needs.
Admittedly, it does not protect from the outside gaze, but it is however possible to add plants that will have this role.
Wooden fences can take many shapes. Indeed, from the woven panel to solid wood, this natural material makes it possible to delimit and identify your home in an aesthetic way.

All these fences can be placed on a concrete wall in order to modernize them. This makes them more resistant and durable and protects even more from intruders and prying eyes. Finally, it adds a touch of color that contrasts with the fence.
---
Respect the town planning rules

Building a fence does not require a building permit in most cases. However, depending on the city in which you live, you need to check the town planning rules to be respected before building.

First, a maximum fence size should not be exceeded. A spacing also has to be respected if your fence is at the edge of a public road. Finally, your neighbour must agree if you want to build a fence between both of your lots, in order to save space.
Contact your city hall to identify the specific town planning rules that apply to your city.
---
Install a gate
Depending on the style of fence and your needs, you will have to install a larger or smaller gate, electric or not, specific material, etc. In some cases (no danger, in the countryside, etc.) a garden gate may be enough.
---
Test in Keyplan 3D
Thanks to Keyplan 3D, you can visualize your fences very easily. Choose a barrier model and place it in your garden. Thus, you can already get a first look at the fence's style and height.
In our example, we open a house project and place and place a wooden fence in our garden.
Personalize it by modifying its dimensions, color or texture then add it to your favorites. This allows you to save the modified object so that you do not have to recreate it. You will find it again by clicking on the "furniture" icon.
In order to respect the style of the property, we opt for a modern fence by painting the wood in charcoal gray.
Then, delimit your land by placing the fences created. These magnetize automatically for easier placement. However, you can deactivate magnetism by clicking on the button at the top right if you need more precision.
You can then modify your garden to these fences in order to adjust them if necessary. For example, find the exact height to hide your garden from the outside. To have a ladder, you can add an adult or child model next to your fence. This will tell you how high is his head in relation to the height of your gate.
---
New items are coming soon…
While some fences are already available in Keyplan 3D, you will soon be able to find many more in the application. Indeed, the countryside pack will allow you to have access to a multitude of new objects including ten different types of fences as well as twenty models of gates !
Here are some examples in the process of modeling :
All these objects can of course be modified in Keyplan 3D, according to their dimensions, colors or textures. You will also have the option of opening or closing your gates.

As a reminder, the countryside pack will be available this summer in the in-app store.

In the meantime, have fun personalizing your gardens and send us your creations!
Quasarts Team
---